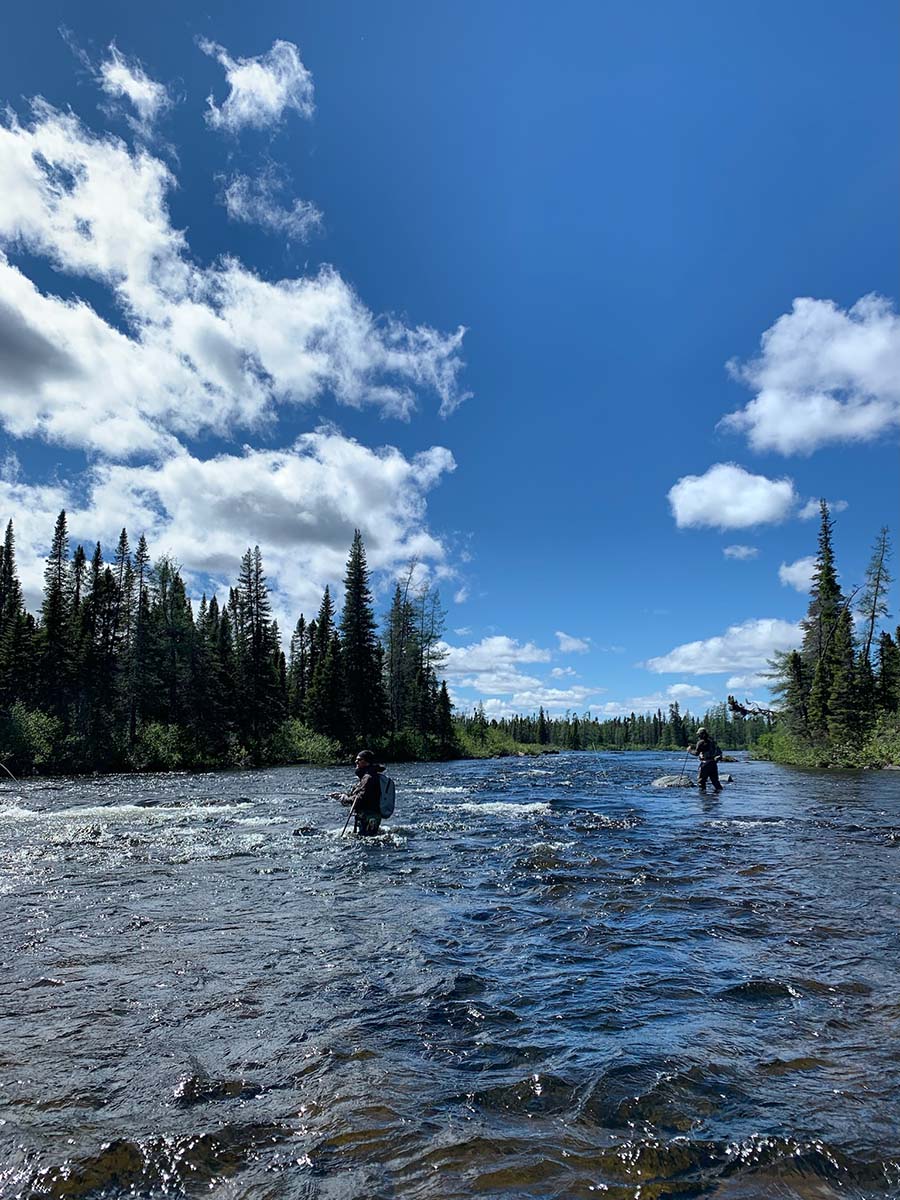 FISHING
Land of the largest wild Brook Trout and best Landlocked Salmond fishing in the world. Accessible only by floatplane, the Lodge is located on Andre Lake, at the head of the McKenzie river, which flows for over 30 miles before emptying into the gigantic Smallwood Reservoir.
Our guest have access to 3 scenic rivers: the McKenzie, the Quartzite and the Comeback. World class fly fishing on miles of pockets, riffles, runs and pools. Hunting for big Brook Trout, acrobatic Landlocked Salmon, Lake Trout, Northern Pike and Whitefish.
" The angler forgets most of the fish he catches, but he never forgets the streams and lakes in which they are caught. " _ Charles K. Fox
An ethical and responsible fisheries policy
In order to preserve this spectacular fishery for future generations and to protect and abundant natural habitat, we practice catch and release in our waters.
Only fly-fishing with single barbless hooks is permitted in the rivers. In the lakes, light tackle with barbless hooks is permitted.
" We do not inherit the earth from our ancestors; we borrow it from our children. " _ David Brower
Depending on the season and river level, fishing conditions call for different techniques. Generally speaking, the early season is usually with streamers, which big Laker and Pike love. Wet flies are excellent for Brook Trout and Landlocked Salmon, as are large nymphs and dries, which can also be attractive to whitefish.
Later in the season, you'll need to adapt the size of your flies, sometimes up to numbers 16 or 18. Tchernobyl Ant and Mouse Pattern has to be a priority all season !!!
A trip to McKenzie River Lodge is also a time to learn and improve your fishing technique with a highly competent and eclectic team of guides.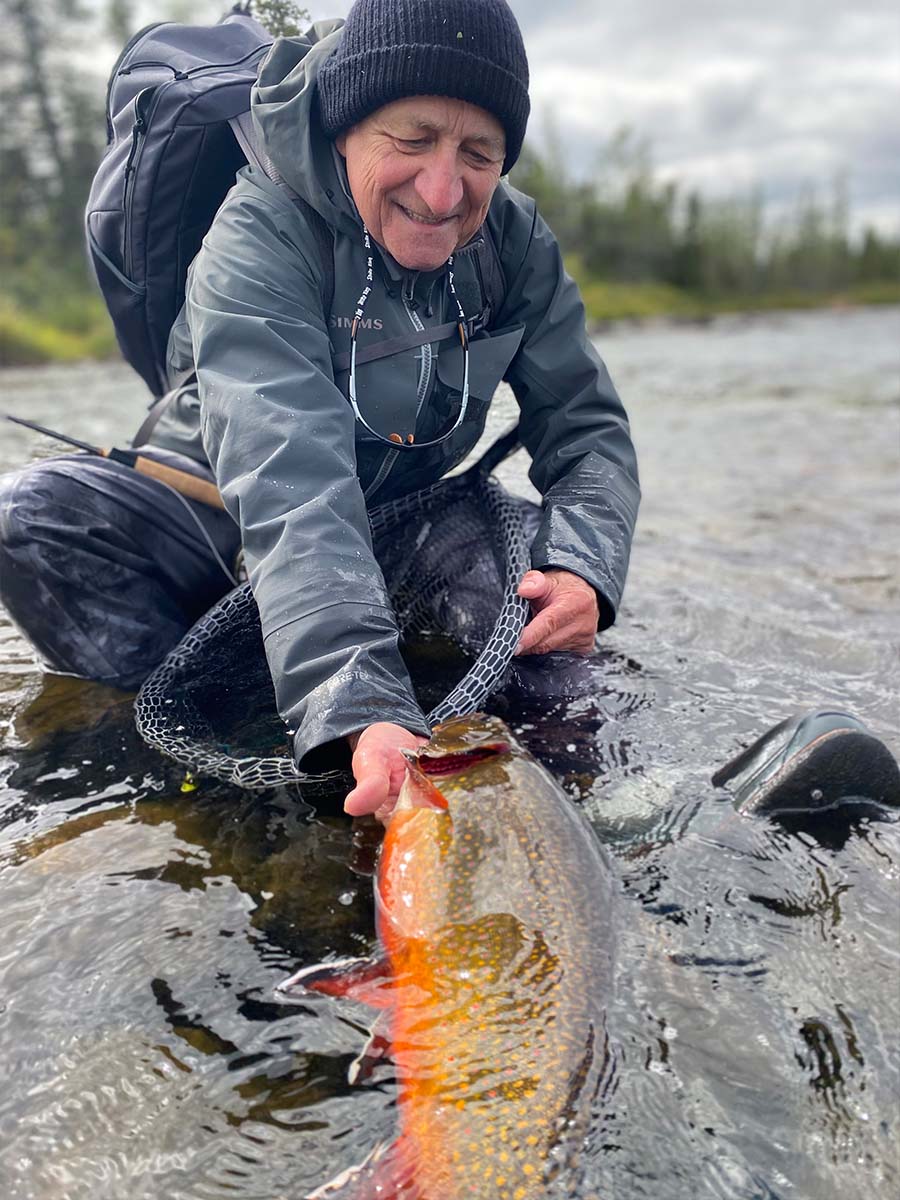 BROOK TROUT
Beautifully coloured and strong river fish. Our Brook trout averages 2 to 5 pounds, and fish weighing up to 8 lbs are released each year. Feeding on the abundant insects and baitfish in the river, they take dry flies, nymphs, streamers and mice patterns.The camp record is 9 lbs 4 ounces.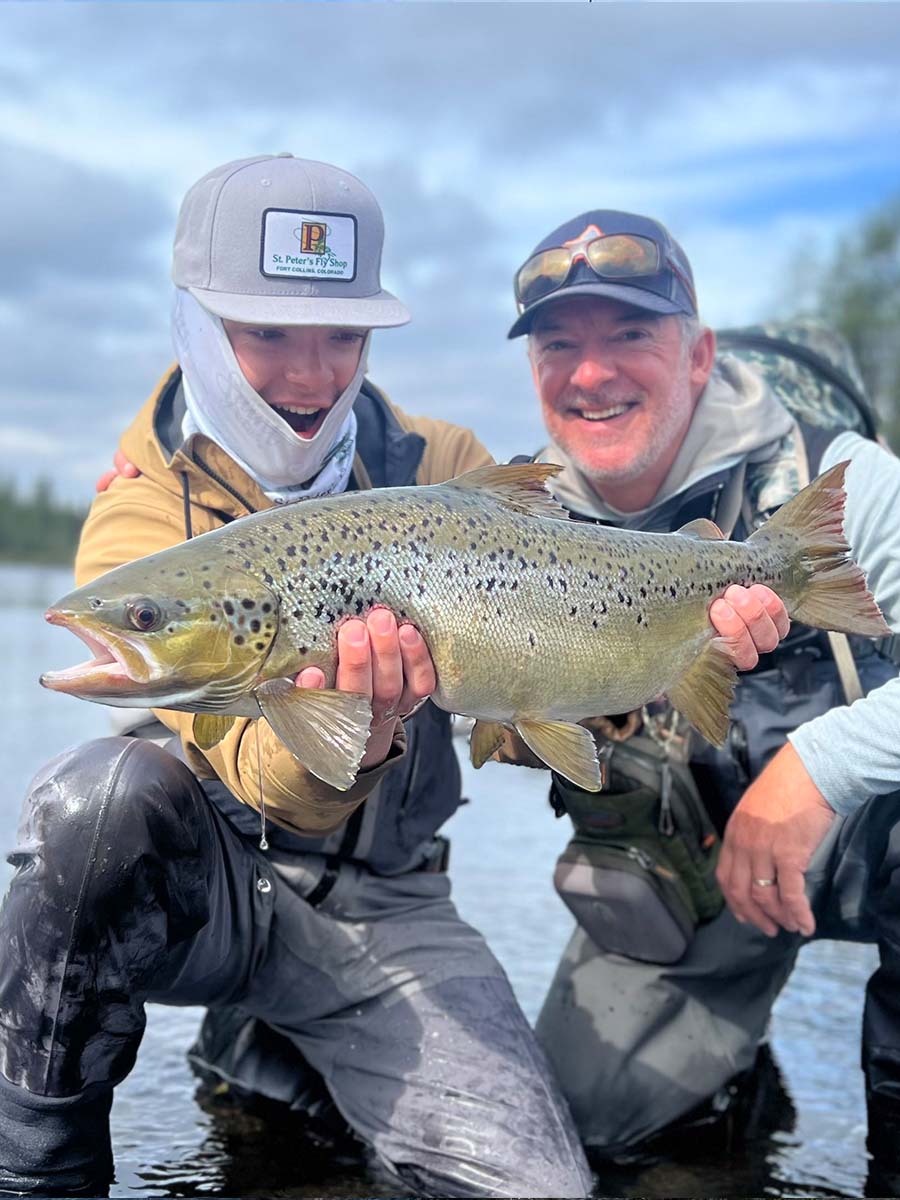 LANDLOCKED SALMON
Or Ouananiche as they are called in eastern Canada. These hard fighting acrobatic fish average 4 to 10 pounds. Trophies up to 16 pounds have been released. They become larger are more numerous in august and early September.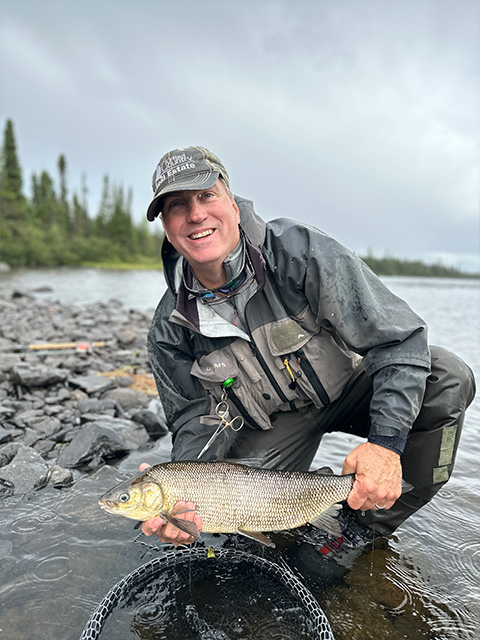 WHITEFISH
This is abundant and often neglected by anglers. Averaging 3 to 7 pounds, these beautiful salmonids have small delicate mouths. Hard fighters they offer a great challenge on small dry flies or nymphs.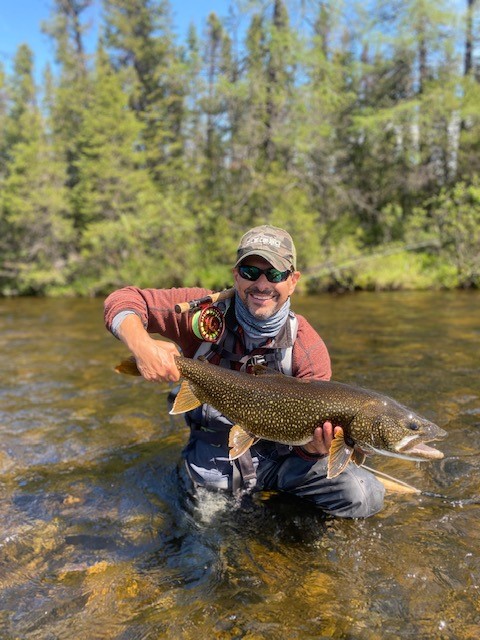 LAKE TROUT
Present in the river early in the season, they readily take streamers or stonefly nymphs. These powerful fish are the apex predator of the North, averaging 4 to 15 lbs, they are also abundant in Andre lake where trophies of 15 to 25 lbs are caught each year trolling large streamers with sink tip lines.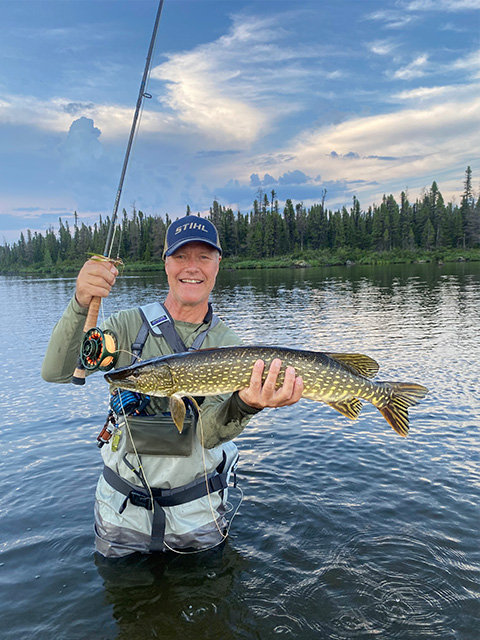 NORTHERN PIKE
Abundant in Andre Lake or slower currents and bays of the river, they range from 5 to 20 lbs. Strong and aggressive predators they provide great sport on the fly. They avidly take large streamers, poppers or mouse patterns.
WHAT TO BRING GEAR
RODS: RODS: A 9-foot rod for number 6 silk will cover most situations. However, dealing with large lake trout or northern pike may require a rod for 8 line. Using a switch rod should be considered for certain pools or for pure fishing comfort. A minimum of 2 rods is required, ideally 3; accidents happen so quickly!
REELS: Heavy-duty reels with a quality disc drag and 100 yards minimum of backing.
LINES: Floating lines are the most commonly used. We suggest that you also bring an intermediate sink tip and a fully sinking for Lake trout. 
LEADERS :  8 to 10 pound test tippet, is a favoured material when prospecting waters that might produce various species. Brook trout and Whitefish use 3X to 5X tippets fo best presentation on dry fly fishing. Leaders of 9 to 12 feet in length are acceptable. You will need heavier leaders and a shock tippet of fluorocarbon, wire or Kevlar for Pike or Lake trout.
A good selection of leaders and leader material is available at the Lodge.
CLOTHING AND ACCESSORIES
CLOTHING: Your clothing list should include long underwear (polypropylene and or polar fleece for wearing under waders), wool socks, warm shirts, Patagonia style pullover or hooded sweatshirt, good quality wind and waterproof wading jacket, a hat with visor, warm gloves. Be prepared for a broad range of temperatures (45 – 80 degrees F). It is best to dress in layers.
WADERS: Good quality Gore-Tex chest waders. Stockingfoot waders with good quality wading shoes or brogues will provide better support, comfort and mobility than boot-footed waders. Felt soles are an absolute must! Screw-in carbide studs and a wading staff.
Carbide studs are available at the Lodge.
ACCESSORIES: Bug repellent, sun cream, lip balm, clippers, leader materiel, split shot or lead weight, polarized sunglasses, dry fly floatant, forceps, pocket knife, flashlight and a small waterproof pack or bag for carrying personal gear, camera, clothing etc. 
The total luggage weight for the seaplane is 50 pounds for your personal belongings, ideally in one non-rigid piece of luggage.